Passive preamplifier SA-TVC1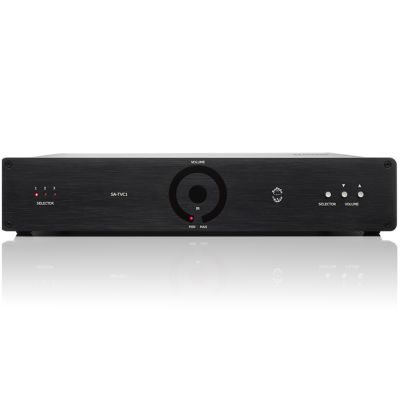 SA-TVC1 is a passive preamp with remote control. Volume is controlled via a transformer with 24 outputs on its secondary side. The primary side has four inputs. Depending on how the inputs on the primary side are connected, the device can be used as a unity gain device, or with an amplification factor of 6dB (amplification factor of 2x). Selection is via a toggle switch, located at the back side of the device. The 24 volume level positions are selected using 24 high quality Takamisawa relays. Three signal sources are also selected using Takamisawa relays.The transformers used are built around amorphous C-cores, using high quality copper wiring. The transformers are encapsulated using natural materials. The perspex ring has 24 LEDs behind it, showing the current status of volume, with only one LED shining at any one time.
ESSENTIAL HIGHLIGHTS:
Three RCA Cinch line inputs; Two parallel RCA Cinch outputs; Separate grounds for the primaries and secondary's; Gain of 1x or 2x user selectable; Relay switching on inputs and volume control steps; Takamisawa high quality relays used throughout; Remote control.
SPECIFICATION:
Frequency response: 12 ... 70,000 Hz –3 dB
Noise: -107 dBA or better
Dynamic range: 101.8 dB or better
T.H.D.: 0.0011% or less IMD + noise: 0.231% or less
Crosstalk: 84.4 dB or better.